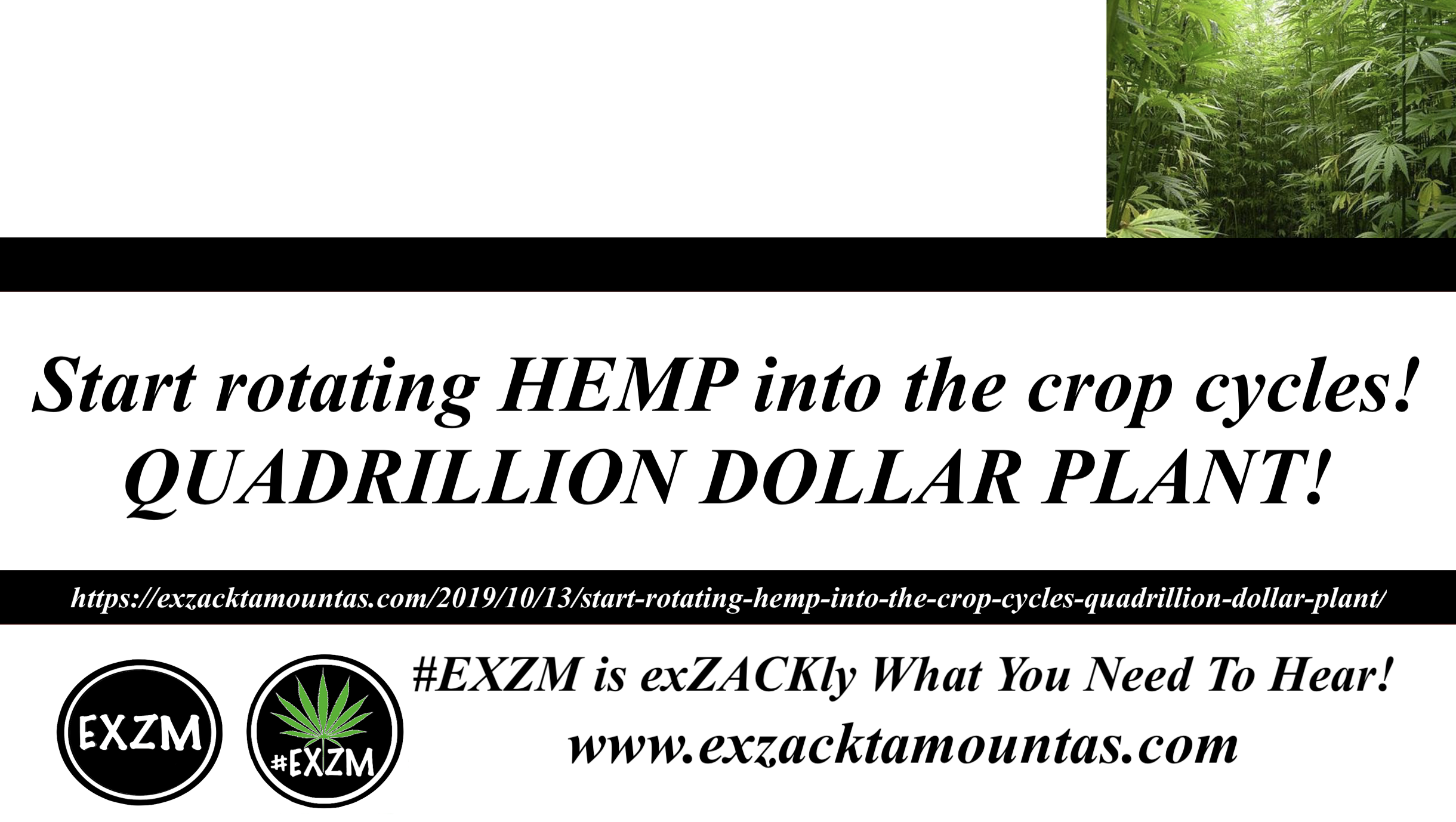 If the FARMERS are going to start harvesting 50 Billion Dollars annually for China, we NEED to start rotating HEMP into the crop cycles, so that Vitamins A through Vitamin Z, would get put back into the soil every cycle hemp was grown. Plus when hemp is grown the plant sucks up all the toxins, metals and other negative things and grows a strong durable plant.

Now when I say Hemp I mean Marijuana's cousin. In the Cannabis family there are two cousins. Just like you have a cousin in your family. Well just because you and your cousin are in the same family doesn't mean your are the same person, does it? NO! So in the Cannabis Family, there is the Hemp Plant and the Marijuana Plant. They are cousins and are totally different. They can help the planet in so many ways it is unbelievable and they are GOD'S PLANTS!

Please President Donald J. Trump REPLACE PLASTIC with HEMP! It is easy to grow and can make any plastic product we need except it will be made out of hemp instead and also be BIODEGRADABLE! That's what this planet needs BIO-DEGRADABLE HEMP PLASTIC EVERYTHING! That would mean no more 'Bisphenol A' in the Oceans, there wouldn't be literal tons of plastics sitting on this planet, as well as many other things! Help the Farmers by allowing HEMP to be grown in cycles with the Corn and soybeans and wheat and more to keep the fields healthy and the farm animals healthy.

It is also time we legalize medical cannabis (Hemp and Marijuana) equally across all the states for people that have Epilepsy and many other conditions. It has already been medically proven to Save Lives and improve conditions over tens of thousands of times, in tens of thousands of medical reports NOW! MedicalCannabis (Hemp and Marijuana) SAVES LIVES! It's Time to END CANNABIS PROHIBITION and save the planet on many levels! Hemp could also improve our healthcare system by lightyears and get rid of Evil BIG PHARMA!

Hemp can also help us with our Infrastructure plans to REBUILD AMERICA! If we put HEMP into CONCRETE we GET HEMPCRETE and that is 4 times stronger than concrete and LASTS 4 TIMES LONGER! All our cities can be rebuilt and restructured with HEMPCRETE and more. You could have put hempcrete with the fence on the border wall and it would have lasted 4 times longer!

Hemp can do a minimum of 50,000+ different things. Basically it can do anything paper can do, but Hemp is stronger, it lasts longer, and it is BIODEGRADABLE. Instead of using paper ever again and killing a tree that is hundreds of years old, we can make any wood item out of hemp that takes 1 SEASON to grow and use!

Let's advance into the future and use this BILLION DOLLAR Crop for everything that's possible! We can put the hemp into steel and make stronger steel in vehicles and much much more! They called it a Billion Dollar plant in the 1920's, so now a days it would be a QUADRILLION DOLLAR PLANT!

#TrumpHemp2020! #EXZM www.exzacktamountas.com

Be sure to also read this story below –>
Hemp Makes Great Plastic, So Why Isn't Hemp Plastic Everywhere?
https://ministryofhemp.com/blog/why-isnt-hemp-plastic-everywhere/

If You're Sick Of Your Senators and House Of Representatives, It's time to Contact Them Now EASILY Through #EXZM Website!
https://www.exzacktamountas.com/senate/
https://www.exzacktamountas.com/house-of-representatives/
Come to my website and see how easy it is to send your #Senator and #HouseOfRepresentative a message and call them #immediately! If you're #SICK of your #Senators, #contact them now! It's time to say they've crossed the line and that you're #not going to #vote for them, if they keep this #Fake #Impeachment aka #AttemptedCoup going! Tweet them! Message them online! Call them #NOW!
#CONSTITUTION
https://exzacktamountas.com/constitution/
3 BRANCHES OF GOVERNMENT
https://exzacktamountas.com/3-branches-of-government/
#LEGISLATIVE
https://exzacktamountas.com/legislative/
#CONGRESS
https://exzacktamountas.com/congress/
#SENATE
https://exzacktamountas.com/senate/
HOUSE OF REPRESENTATIVES
https://exzacktamountas.com/house-of-representatives/
Download Zack Mount's #PatriotsDefeatGlobalists Music Album At
https://www.exzacktamountas.com/
DOWNLOAD THIS SO YOU CAN KNOW WHAT THE GOVERNMENT PLANS TO DO! MICROCHIPS, FEMA CAMPS, ETC!!
https://info.publicintelligence.net/USArmy-InternmentResettlement.pdf

FM 3-39.40
INTERNMENT AND RESETTLEMENT OPERATIONS
February 2010
DOWNLOAD INSPECTOR GENERAL'S FISA REPORT!
Read the full report here!
https://www.justice.gov/storage/120919-examination.pdf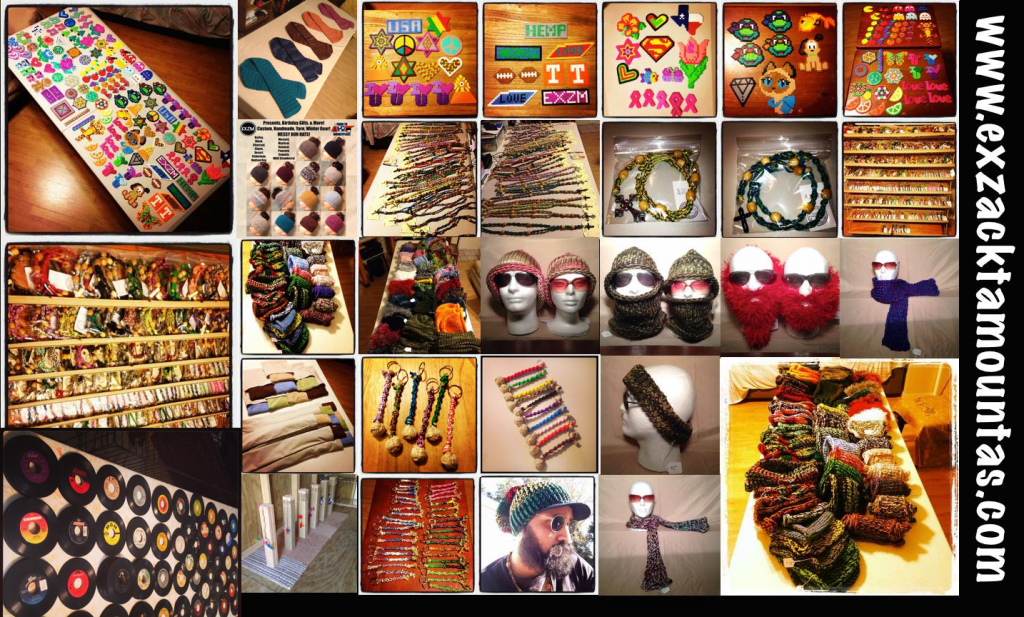 BE SURE TO ALSO LISTEN TO MY FULL ALBUM FOR FREE BELOW! IT'S CALLED PATRIOTS DEFEAT GLOBALISTS AND THAT'S EXACTLY WHAT WE'LL BE DOING THESE NEXT FEW YEARS! HELP SHARE MY ALBUM WORLDWIDE SO WE CAN BRING DOWN THESE EVIL BAD GUYS! ALSO CHECKOUT MY DIFFERENT TYPES OF MUSIC VIDEOS FOR AT LEAST 4 OUT OF 10 OF MY SONGS!
Patriots Defeat Globalists
by Zack Mount
© Copyright – Zack Mount / Zack Mount (193428678088)
Let's Wake Up people's Minds around the World about the Corrupt FakeStreamMedia, and the Evil DeepState Globalists trying to destroy America and President Donald J. Trump. I'm making positive, educational, political and motivational music to enjoy daily!
Genre: Hip-Hop/Rap: Political Rap
Release Date: 2019
CLICK LINK BELOW TO CHECKOUT MY NEW ALBUM CALLED, PATRIOTS DEFEAT GLOBALISTS